Crazy Woke Asians (CWA) is an Asian American comedy group founded by Kiki Yeung. The organization focuses on providing access and outlet for Asian American comedic artists and surrounding communities to the entertainment and beyond. Above their normal shows, Crazy Woke Asians hosts various live and online events to raise funds and awareness for multiple charitable organizations and social causes.
View their latest projects and events by visiting http://www.crazywokeasians.com/
.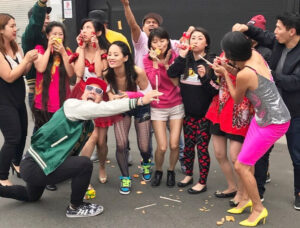 WHAT IS A CRAZY WOKE ASIAN?
A Fun
Wild
Spontaneous
Outrageous
Unpredictable
Intelligent
Outspoken
Aware
Liberated
Hip
Inclusive
Connected
Free
Educated
Cultured
Passionate
Creative Individual who happens to be of Asian or Pacific Islander heritage.
MISSION
Giving voice by providing a platform for up and coming Asian American comedic talent.  
Creating thought-provoking, entertaining shows and stories through live shows, music, comedy workshops, new media, TV and film.  

Celebrating diversity through creating non-stereotypical, multi-dimensional characters that reflect truth in our community.